This is an archived article and the information in the article may be outdated. Please look at the time stamp on the story to see when it was last updated.
A man was shot in the face during a home robbery in the Mid-Wilshire District and has told authorities he may know the woman who shot him, although that detail still being investigated and not confirmed, Los Angeles police said.
The robbery happened in the 1100 block of Citrus Avenue on Wednesday morning when two men and a woman attempted to rob the home of a man who police describe as being in his 60s. The robbers are still at large, police said.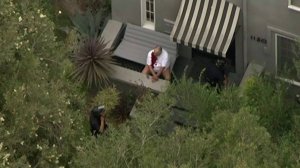 It is unclear how they entered the home. But they demanded the elderly man's property once they were inside, police said.
When he refused to give it to them, he was shot by the female robber, police said. He is currently in stable condition, authorities said.
"The victim denied giving the suspects property and ultimately was shot," Sgt. Matt McNulty of LAPD Wilshire Division said.
The man then ran to a neighbor's house to call for help, officials said. He later told investigators he recognized the woman who shot him, but police said that detail is still being looked into.
"There might be a chance that the victim knew female suspect, but like I said, that is still under investigation," McNulty said.
Sky5 footage shows the man sitting on a porch, bleeding, before paramedics arrive. The area surrounding the home was searched by police using canine units.
After the robbery, a neighbor told KTLA that she is worried there will be more crime in the area.
"This makes me extremely nervous. I moved into this neighborhood to get away from Hollywood and the crime, and I feel like it's changing," Nisa Ahmad, a neighbor, said.
 Police said they believe a getaway vehicle may have been used and are also on the search for that. They said the female robber is believed to be in her 20s while the two men are in their 20s or 30s.