This is an archived article and the information in the article may be outdated. Please look at the time stamp on the story to see when it was last updated.
A man who allegedly smashed through a sliding glass door and entered a home in Yorba Linda before being fatally shot by the homeowner was said to have been "hallucinating" and talking about "zombies," authorities said Monday.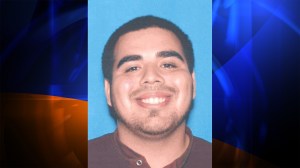 The shooting took place in the 5100 block of Wendover Road at about 3:15 a.m. on Sunday, according to the Orange County Sheriff's Department.
The man, identified as Paul Bracamontes, 22, of Fullerton, was allegedly in the back yard of the home when he began screaming at the homeowners through a sliding glass door, threatening to harm them, deputies said.
Eventually, Bracamontes shattered the rear glass door and entered the home — and was then shot by one of the homeowners, according to a report from the sheriff's department.
The homeowners, who said they did not know Bracamontes, were interviewed by investigators at the scene and released.
Relatives say the Cal State Fullerton junior told investigators that he attended a party Saturday evening during which he began making bizarre comments about zombies.
"At some point during conversations at that party they say he began hallucinating… and that he needed to get a gun," said Lt. Jeff Hallock of the Orange Co. Sheriff's Department.
Earlier in the day Bracamontes was volunteering at a Chino charity that assists foster children.  No one at the event reported anything unusual in his behavior.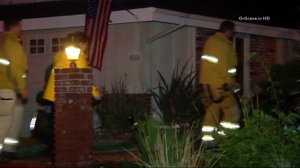 An autopsy for Bracamontes was tentatively scheduled for Tuesday, and toxicology tests were set to determine whether he was under the influences of drugs or alcohol.
Results of the tests may not be available for eight to 12 weeks, the sheriff's department stated.
Anyone with additional information was asked to contact the Orange County Sheriff's Department at 714-647-7000.
Anonymous tips may also be submitted to Orange County Crime Stoppers at 855-847-6227 (TIP-OCCS).