This is an archived article and the information in the article may be outdated. Please look at the time stamp on the story to see when it was last updated.
A man was fatally shot by police in Azusa Sunday night after allegedly pointing a gun at an officer.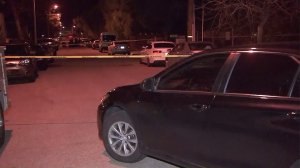 Azusa police responded to the 1800 block of Ranch Road after someone reported "shots fired" and "a man with a gun" in the area about 11 p.m., the Los Angeles County Sheriff's Department stated in a news release.
Homicide detectives said the man refused to follow the officers' commands and then pointed a handgun at one of the officers.
"Fearing for his life the officer fired several rounds from his duty weapon at the suspect, striking the suspect at least once in the upper torso," the Sheriff's Department stated.
The suspect, described only as a 49-year-old white man, died at the scene.
No officers were injured in the incident.
Ranch Road was closed between the 1700 and 1900 blocks during the investigation.
Anyone with information about the incident was asked to call the Sheriff's Department at 323-890-5500.
Those who wish to remain anonymous can contact Crime Stoppers at 800-222-TIPS (8477).