This is an archived article and the information in the article may be outdated. Please look at the time stamp on the story to see when it was last updated.
An investigation was underway Sunday into a shooting at a house party near Cal State San Bernardino that left one person dead, authorities said.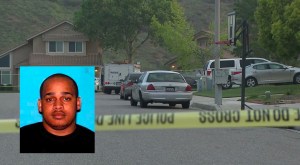 The shooting occurred two blocks away from campus at a non-sanctioned fraternity house on the 5500 block of North Osborne Court (map) around 1:20 a.m., according to Lt. Travis Walker with the San Bernardino Police Department.
Officers responded to the scene after receiving a report of shots fired, Walker said.
When police arrived, they found a man who had been shot in the chest lying on the ground near the driveway, according to a news release from the San Bernardino Police Department.
The victim has been identified as Deandre Williams, 27, of Rialto, the release said.
Authorities said earlier that the victim was not a student at the university.
"You could see some commotion, a few people having an argument, and another set of people having another one near a car," said Jeff Lengyel, a witness who lives near the scene. "Next thing you know, those two combatants separate. One stands back, at relatively close range, and fired at least five rounds."
Surveillance video showed people scattering as the gunfire erupted.
Police were searching for the gunman, who was described as a short black adult male in his 20s, according to the release.
A motive for the shooting had not yet been determined.
Anyone with information was asked to contact Detective Joshua Cunningham at 909-384-5745 or Sgt. Gary Robertson at 909-841-5361.
KTLA's Geoff Peters contributed to this report.