This is an archived article and the information in the article may be outdated. Please look at the time stamp on the story to see when it was last updated.
SOUTH PASADENA, Calif. (KTLA) — The investigation continued on Monday into the fatal shooting of a man by an off-duty police officer in South Pasadena.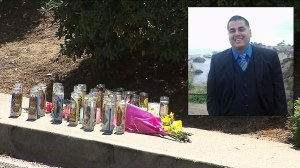 It happened around 1 a.m. on Sunday in the 1000 block of Arroyo Verde Road and involved an off-duty Cal State Los Angeles police officer.
There was some sort of confrontation between the officer and a man who was armed with a gun, police said.
That man was identified by family members as 31-year-old Justo Quintero, of Los Angeles.
A weapon was recovered at the scene, Lt. Holly Francisco, of the Los Angeles County Sheriff's Department Homicide Bureau, said.
However, it remained unclear if Quintero fired the weapon.
Quintero was shot multiple times in the upper torso and fled the scene in his car before crashing into a parked vehicle, according to investigators.
He was detained and transported to an area hospital, where he was pronounced dead.
The officer suffered minor injuries and was treated at the scene. His name was not immediately released.
"Justo was a great guy. We don't know what happened," sister-in-law Liz Ceja said.
"All we're asking is if someone has heard anything that happened, please help us to give my sister, the family closure," she said.
"He doesn't deserve this. He was on his way home," Ceja added. "There's no way that this should have happened."
Both the Pasadena Police Department and the L.A. County Sheriff's Department were investigating.
The fund was set up for Quintero's family under Elizabeth A Matute Ceja at Citibank.
Checks should have his name in the memo.  The account number is 42009016967.