This is an archived article and the information in the article may be outdated. Please look at the time stamp on the story to see when it was last updated.
A 22-year-old suspect was taken into custody Wednesday afternoon in connection with a car-to-car shooting in Hawthorne that left one man dead, authorities said.
Homicide detectives located Dante' Bay McNeil, of Gardena, about 3:30 p.m. at a recording studio in Lawndale, according to a press release from the Los Angeles County Sheriff's Department. Officials had initially said McNeil's first name was Donate'.
He was taken into custody without incident and booked for murder at the Hawthorne Police Department, where he was being held in lieu of $1,000,000 bail, the release said.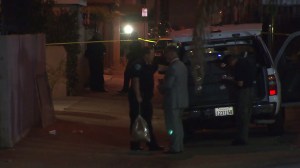 The shooting occurred before 1 a.m. in the 12600 block of Prairie Avenue (map), according to sheriff's Lt. Dave Dolson.
The victim, later identified as 31-year-old Azzaam Stallsworth, of Hawthorne, was driving his car in an alley when another vehicle opened fire, Dolson said.
Stallsworth was struck by gunfire and crashed his car into a wrought-iron gate, according to Dolson.
He was taken to a hospital and later died, Dolson said.
A passenger in the vehicle was not injured.
Detectives were in an alley near a church gathering evidence in the hours after the shooting, video showed.
It was determined that McNeil had a prior relationship with the passenger, the Sheriff's Department said.
A spokesperson for the department would not confirm whether any others suspects were being sought in the case. An investigation is ongoing.
Anyone with information about the shooting was encouraged to call the Sheriff's Department's Homicide Bureau at 323-890-5500.
Additionally, anonymous tips can be left by calling "Crime Stoppers" at 800-222-8477, texting the letters "TIPLA" and a tip (274637), or through the website http://lacrimestoppers.org.
KTLA's Mike McGregor and John A. Moreno contributed to this report.