This is an archived article and the information in the article may be outdated. Please look at the time stamp on the story to see when it was last updated.
One person was in custody after a man was fatally shot at a car wash near a busy intersection in North Hollywood on Saturday afternoon, police said.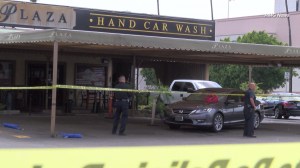 The shooting occurred around 2 p.m. at the Plaza Car Wash located in the 6500 block of Laurel Canyon Boulevard (map).
The victim was involved in an argument with a person who pulled out a handgun and shot him multiple times, LAPD Detective Richard Wheeler said. The victim was identified Sunday as Brian Pleytez, a 25-year-old from Van Nuys, by the coroner's office.
Video from the scene showed the man's covered body in what appeared to be an outside waiting area of the car wash.
The person suspected in the shooting initially fled the scene, Wheeler said.
According to Officer Mike Lopez of the Los Angeles Police Department, that person was later taken into custody, while the weapon believed to have been used in the shooting was recovered.
Video shot in North Hollywood and posted to Instagram showed a shirtless man lying face down in the middle of a street, apparently being taken into custody by LAPD officers who had their guns drawn.
Police have not released the name of the person in custody, only saying he was in his 30s.
The shooting was believed to be gang related, according to Lopez.
Plaza Car Wash was cordoned off with crime scene tape as investigators combed the scene searching for evidence, video showed.
KTLA's Jelani Rice, Feven Kiflegiorgis and Ashley Soley-Cerro contributed to this story.
More Video: