This is an archived article and the information in the article may be outdated. Please look at the time stamp on the story to see when it was last updated.
After four people were detained in the death of a man who was fatally shot in his vehicle in Lakewood, authorities said Thursday they had identified the suspected shooter as a 56-year-old man.
The suspect, described only as Hispanic, had not been arrested, according to a brief update provided just before noon by the Los Angeles County Sheriff's Department. Homicide detectives were investigating.
Deputies responded to the 11500 block of Carson Street — in an alley next to a Chevron gas station — on Wednesday at about 11:15 p.m. after receiving a report of a gunshot victim.
They found a male adult had been shot while he was sitting in the driver's seat of his vehicle, a Sheriff's Department's news release stated. The unidentified man was pronounced dead at the scene.
A second male adult who sustained an unknown injury was treated at a hospital and later released.
Four people were detained in connection with the incident, according to the initial news release. They were taken to the sheriff's Lakewood Station for questioning.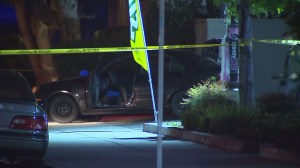 It was not clear if the foursome had been released, or if the suspect was one of those questioned. Nor did authorities say if they knew the name of the person they believed was the shooter.
Anyone with information about the shooting was urged to call the Sheriff's Department's Homicide Bureau at 323-890-5500.
Those who would like to remain anonymous have been asked to call Crime Stoppers by dialing 800-222-8477, texting the letters "TIPLA" plus a tip to 274637, or by going to the website lacrimestoppers.org.