This is an archived article and the information in the article may be outdated. Please look at the time stamp on the story to see when it was last updated.
A man was shot and killed Monday night while sitting on his front porch in the Florence-Firestone area of South Los Angeles, police said.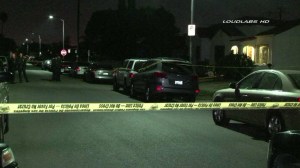 Corey Norflin, 43, was outside his home in the 700 block of East 76th Place (map) about 8 p.m. when an unidentified man in his 20s or 30s walked up to him and opened fire, said Detective Lyman Doster of the Los Angeles Police Department. Norflin died at the scene.
The gunman remained at large Tuesday.
It was not clear if the shooter and the victim knew each other, or if the incident was gang related, police said.