This is an archived article and the information in the article may be outdated. Please look at the time stamp on the story to see when it was last updated.
Homicide detectives are investigating the death of a man who was found fatally shot in Santa Clarita on Tuesday morning, according to the Los Angeles County Sheriff's Department.
Deputies responded to the 14900 block of Begonias Lane around 5 a.m. to a "shots fired" call, the department stated in a news release. Earlier, sheriff's officials said the shooting happened about a 1/2 mile away, in the 29200 block of Abelia Road, before updating the location.
When authorities arrived at the scene, they found a man had been shot multiple times. A bicycle was also on the ground near the street, video showed.
The victim died at the scene.
Authorities not have yet released his name, but a woman identified the victim as Ivan Solis, her 24-year-old brother. Through tears, the victim's sister told KTLA she was "devastated" over the fatal shooting.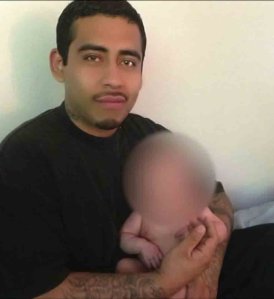 "As long as he's in peace now, you know? It's all good. Maybe it might not be better but as long as he's in peace that's all that matters," Jessica Razo said. "I tell those who have someone in the streets or in drugs, you guys have ... to get them help or something."
Matt Cameron, who identified himself as the victim's best friend, told KTLA Solis battled addiction for some time, but had been trying to turn his life around for his baby girl before he was gunned down.
"He had a kid. He had a daughter, and he was trying to straighten up his life," he said.
A motive for the deadly shooting is under investigation, and authorities did not immediately have any suspect information.
Anyone with information about the shooting is urged to call the department's Homicide Bureau at 323-890-5500.
Those who would like to leave a tip anonymously can do so by calling "Crime Stoppers" at 800-222-8477, or by going to the website http://lacrimestoppers.org.