This is an archived article and the information in the article may be outdated. Please look at the time stamp on the story to see when it was last updated.
Police were searching for a gunman who opened fire on a man who was sitting in his car on a street in Encino on Wednesday.,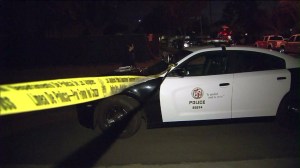 The shooting was reported just before 6 p.m. in the 4900 block of Rupert Avenue, according to Los Angeles Fire Department Spokesman Erik Scott.
When officers arrived they discovered a man in his 40s with multiple gunshot wounds, according to Los Angeles Police Detective James Setzer.
The unidentified victim was approached by a white man in his mid 50s who fired multiple times, according to LAPD spokesman Officer Gregory Baek.
The gunman left the location in a pickup truck, Baek said.
The victim was transported to Northridge Hospital Medical Center in critical condition, Baek said.
There was no further information on his condition.