This is an archived article and the information in the article may be outdated. Please look at the time stamp on the story to see when it was last updated.
Los Angeles Police detectives were asking for the public's help Thursday in locating a gunman after a man was shot multiple times in the driveway of his Encino home as he exited a vehicle.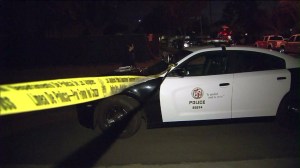 The shooting, which happened Wednesday evening on the 4900 block of Rupert Avenue (map), was reported by the victim's wife. The woman discovered her husband had been shot and called the police, a news release from the LAPD's West Valley Division said.
Two children under the age of 10 were inside the victim's Range Rover during the shooting, police on scene had said.
The shooting occurred in an affluent area with minimal violent crime.
When officers arrived at the home, they discovered the 47-year-old victim had sustained multiple gunshot wounds to the chest, according to LAPD Sgt. David Bluestein.
The man was transported to a local hospital in critical condition, Bluestein said.
Witnesses described the gunman as a white male in his 50s. He was believed to have been driving a dark colored pickup truck or a silver Porsche, according to the news release.
The shooter is related to the victim and was under investigation for two burglaries in Beverly Hills, detectives on scene Wednesday evening said. The gunman was considered a flight risk, one detective said.
Neighbors said the victim was in the jewelry business.
Anyone with information was urged to contact LAPD West Valley Homicide Detectives Price or Dunlop at 818-374-7720. Those wishing to remain anonymous should call Crime Stoppers at 800-222-8477,  or go to LAPDOnline.org and click on "webtips."
KTLA's Erin Myers contributed to this report.