This is an archived article and the information in the article may be outdated. Please look at the time stamp on the story to see when it was last updated.
Police are searching for a man who set off an explosive device in a Cheesecake Factory restaurant packed with customers in Pasadena Thursday.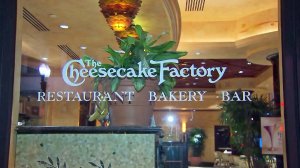 The explosion was reported about 6:08 p.m. after witnesses say a man threw something in the restaurant located at 2 West Colorado Blvd., the Pasadena Police Department stated in a news release.
Arriving officers helped customers and employees evacuate the restaurant.
Authorities then searched the restaurant and located a "detonated homemade pyrotechnic device," the Police Department stated.
No injuries were reported in the blast.
Witnesses described the person who threw the device as a Hispanic or Middle Eastern man, about 6 feet tall with a thin build and a heavy beard.
The man was wearing all black clothing and a black beanie, according to the Police Department.
The restaurant, which was open Friday morning, is equipped with several security cameras.
Surveillance cameras are also located at the intersection of Fair Oaks Avenue and East Colorado Boulevard outside the restaurant.
Federal authorities have been notified of the incident, the Police Department stated.
Anyone with information was asked to call the Police Department at 626-744-4241.