This is an archived article and the information in the article may be outdated. Please look at the time stamp on the story to see when it was last updated.
Police in Long Beach were asking for the public's help in identifying a man who has exposed himself on several occasions to children walking to school.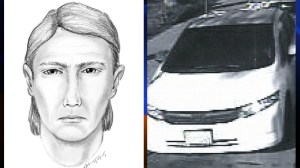 The man had been spotted sitting on the passenger side of his parked vehicle with his pants down, exposing himself, and sometimes masturbating as young girls walked by, according to a news release from the Long Beach Police Department.
On several occasions, he called out to the girls, in an apparent effort to draw them over to his car, the release stated.
Six similar incidents were reported between Feb. 11 and March 4, during the hours of 7:45 a.m. and 9 a.m. and within the boundaries of Coronado Avenue to Euclid Avenue, and from 7th Street to 10th Street, according to police.
In one incident, near Euclid Avenue and 7th Street, the man opened his door and tried to grab a little girl who was walking by, the release stated. She was able to run away.
The man was described as white, between 24 and 35 years old, with brown hair.
He was wearing a black shirt and black "Dickie" pants.
An image of his car was captured on surveillance footage. It was described as a white passenger vehicle with tinted windows.
Anyone who recognizes the man or his vehicle was urged to contact Long Beach Police Sex Crimes Detective Adriana Jaurigui at 5620-570-7372.  Anyone knowing the immediate whereabouts of the suspect should call 911.
Anonymous tips may be submitted by calling 1-800-222-TIPS (8477), texting TIPLA plus your tip to CRIMES (274637), or visiting www.lacrimestoppers.org.