This is an archived article and the information in the article may be outdated. Please look at the time stamp on the story to see when it was last updated.
Police in Burbank were asking for the public's help Wednesday in identifying a man caught on surveillance video stealing a custom bike designed for a boy with special needs.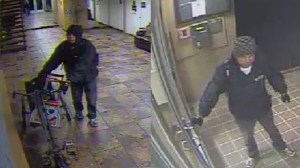 The theft occurred on Saturday from a secured garage at an apartment complex located at 4524 Clybourn Ave., according to a news release from the Burbank Police Department.
The bike, described as a "Berkel" brand (Pro 3), is a gray-and-black three-wheel bike valued at about $5,300, police said.
The bike was specifically manufactured for 13-year-old Damian Jeffries, who suffers from cerebral palsy.
The bike took 18 months to customize and multiple fundraisers, sponsors and a special grant to cover the cost, according to Damian's mother Allesha Jeffries.
According to his mother, the bike has a way of making Damian's cerebral palsy disappear.
"People stare at those things that make him different," she said. "When he's in the bike, even though it's a different bike, it's a cool bike."
The alleged thief, who was captured by surveillance cameras, is described as a male white or Hispanic in his mid 30s, standing 5 foot 8 inches to 5 foot 10 inches tall, weighing between 160 and 180 pounds.
He was wearing a black hoodie-type jacket, a black-and-white beanie and dark jeans.
Investigators hope someone in the community will recognize the alleged thief or the bike.
Anyone with information was urged to contact Detective Aaron Kay at 818-238-3210 or 818-238-3000. You can also call Crime Stoppers at 800-222-TIPS (8477) to remain anonymous.
A GoFundMe page has been set up to help raise money to replace the bike.