This is an archived article and the information in the article may be outdated. Please look at the time stamp on the story to see when it was last updated.
Friends identified the victim killed during an apparent home-invasion robbery in Downey on Sunday as kind and loving. Meanwhile, investigators determined the man was likely targeted, and continued their search for one of the three suspected intruders.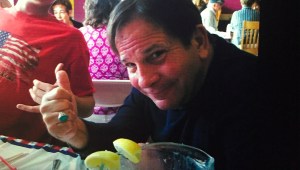 Police received a call reporting the possible home-invasion robbery in the 10300 block of Lesterford Avenue at about 11:13 a.m., a news release from the Downey Police Department stated.
A witness told authorities two men contacted the home owner near the side door and then forced him back into his home before a third person entered the residence.
As officers arrived at the scene, the three alleged robbers jumped a rear fence of the victim's residence and ran away, the news release stated.
Two of the suspects, identified as 28-year-old Henry Willie Sao, of Long Beach, and 19-year-old  Paul Darvis Misikei, of Anaheim, were arrested and booked on suspicion of homicide shortly after officers set up a perimeter.
Inside the home, investigators found the body of 59-year-old man, who was unresponsive.
The man was pronounced dead at the scene, according to the news release.
Authorities have not released the identity of the victim, but he was identified as Jim Rudometkin by friends and neighbors.
Rudometkin, a well-known real estate agent, was described as a kind and loving man who was "willing to help anybody out, give them anything," by one friend.
A cause of death was not immediately released by authorities.
Police said the crime did not appear to be a random act and that the "investigation points to the victim being specifically targeted."
The person who escaped the perimeter and was still being sought was described as a male pacific islander, about 17 years old and standing 5 feet 8 inches tall. He was said to weigh about 160 pounds with black "bushy" hair and was wearing a red or orange button down shirt, blue jeans, and black and white tennis shoes.
He may be driving a white, older model four-door sedan, according to the Police Department.
Anyone with information was asked to call the Downey Police Department at 562-904-2308 or Detective Paul Hernandez at 562-904-2368.
Those who wish to remain anonymous can call Crime Stoppers at (800) 222-TIPS.
KTLA's Ashley Soley-Cerro contributed to this report.