This is an archived article and the information in the article may be outdated. Please look at the time stamp on the story to see when it was last updated.
Authorities asked the public for help Friday in their search for a man who attempted to kidnap an 11-year-old girl from a Catholic school in Rancho Cucamonga last week.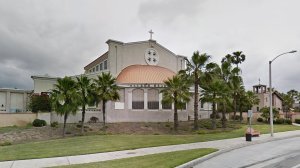 Deputies responded to Sacred Heart School in the 12700 block of Foothill Boulevard at about 6 p.m. on Jan. 10 regarding a report of an attempted kidnapping, the San Bernardino County Sheriff's Department stated.
A man grabbed hold of the victim, who managed to use her feet to fight him off.
The would-be kidnapper then ran away from the school property.
The victim told deputies the man stood about 6 feet 2 inches tall and was wearing a red hooded sweater with a black sweater on top of the red one and black pants.
Deputies searched the area but were unable to locate the man.
Anyone with information was asked to call the Sheriff's Department at 909-477-2800.