This is an archived article and the information in the article may be outdated. Please look at the time stamp on the story to see when it was last updated.
A 24-year-old man who was identified as a person of interest in the stabbing deaths of his girlfriend and infant son in Anaheim was booked Tuesday on suspicion of murder after being arrested in Fountain Valley, police said.
Officers with the Fountain Valley and Santa Ana police departments initially located Kwame Carpenter inside his parked 2001 Lincoln Town Car on the Fountain Valley Regional Hospital campus at around 3:30 a.m.
When officers attempted to take him into custody, he allegedly refused to surrender and drove into a Santa Ana police patrol car, damaging the vehicle, according to a news release from the Fountain Valley Police Department. He also allegedly drove into another vehicle before fleeing the parking lot.
A Fountain Valley police officer fired two rounds at the Lincoln as it fled, the release stated. No one was hurt by the gunfire.
Officers pursued Carpenter, who abandoned the vehicle after colliding with another vehicle. He then ran into Mile Square Park and jumped into a pond in the park's northeast corner, police officials said in the release. A K-9 was deployed into the pond and bit the wanted man, according to the release.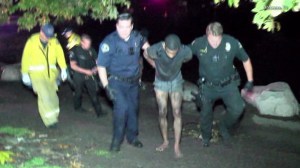 "Eventually Carpenter was taken into physical custody by officers. Carpenter suffered unknown injuries as a result of the arrest by the police dog, and was turned over to Anaheim police officers," the release stated.
Carpenter was booked on suspicion of homicide Tuesday evening, according to police.  He was being held without bail at the Anaheim Police Department Temporary Detention Facility.
Authorities had been looking for Carpenter since Monday afternoon, when they discovered his girlfriend and baby son had died after sustaining serious injuries in the 2600 block of West Ball Road, Lt. Trapp said at the time.
According to Trapp, officers went to the apartment after receiving a report of a felony assault in progress and found the woman and baby boy inside.
They were identified by the Orange County coroner's officer on Tuesday as Moureen Gathua-Carpenter, 24, and Kyan Gathua-Carpenter, 6 months.
The woman died at the scene, according to Trapp. The infant was transported to UC Irvine Medical Center, where he was later confirmed dead.
Both victims suffered multiple stab wounds, police revealed on Tuesday.
Carpenter was believed to be in the residence at the time of the incident, but police did not know his involvement, Trapp said at the time.
Fountain Valley police were investigating Carpenter's actions at the hospital, and were assessing whether any criminal charges would be filed against him.
The two deaths in Anaheim remained under investigation.
KTLA's Alberto Mendez and Melissa Pamer contributed to this story.
More Video: