This is an archived article and the information in the article may be outdated. Please look at the time stamp on the story to see when it was last updated.
A tree trimmer who was picking up traffic cones after finishing a job was fatally struck by a hit-and-run driver who fled the scene of the Santa Ana crash on foot, police said Friday.
The incident occurred shortly before 1:30 p.m. at West 17th and North Fairview streets, a major intersection, Santa Ana Police Department Cpl. Anthony Bertagna said.
The victim, a contract worker for the city, was standing next to his truck when he was struck. He was knocked about 50 feet after the collision and was declared dead at the scene, the corporal said.
"The suspect vehicle did not stop, did not contact anybody , did not render first aid," Bertagna said.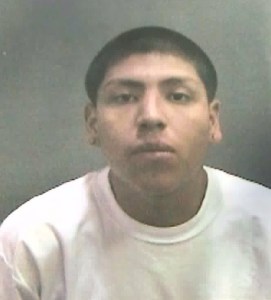 About two blocks away, the fleeing vehicle's front tire fell off.
The driver and a passenger ran away on foot, police searched unsuccessfully for them for about two hours.
Bertagna said Alejandro Rivas, 20, was a person of interest who may have been driving the vehicle.
A representative with the tree-trimming company, West Coast Arborist, identified the victim as Agustin Perez Sosa, 25, of Santa Ana.
Sosa had just celebrated his second anniversary with the company, according to Ernesto Macias of West Coast Arborist, who said the young family man was well liked and a hard worker.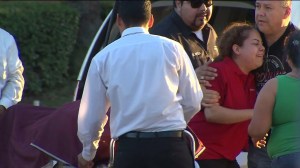 He had a 10-year-old daughter, Bertagna said. The victim's wife came to the scene.
The vehicle involved in the crash, a silver Chevrolet sedan, was left with a shattered and blood-stained windshield, video from the scene showed.
KTLA's Nidia Becerra contributed to this article.