This is an archived article and the information in the article may be outdated. Please look at the time stamp on the story to see when it was last updated.
A man suspected of assaulting several Los Angeles County Metro bus passengers with a screwdriver in recent weeks was taken into custody following two more attacks on Friday.
Hector Resendez, 24, has allegedly assaulted eight people on Metro buses in various locations around Los Angeles since June 16, according to officials.
Resendez was taken into custody after authorities swarmed a Huntington Park gas station near Pacific Boulevard and Slauson Avenue (map) at about noon, Nicole Nishida of the Los Angeles County Sheriff's Department confirmed.
Resendez was being sought by authorities in connection to six previous bus assaults when two more people were attacked on Metro buses Friday morning.
The first took place at about 5:40 a.m. on a bus near North Figueroa Street and West Avenue 26 (map) in the Cypress Park area, Sheriff's Department's transit bureau Lt. Leo Bauer said.
The victim, a man in his 50s, suffered injuries to his face during the assault, according to Bauer.
Resendez allegedly used a screwdriver to attack the victim, bureau Chief Ronene Anda said.
Just before 11 a.m., a second person was stabbed on a bus at Slauson Avenue and Atlantic Boulevard in Maywood (map), according to bureau Officer Ramon Montenegro.
A short time later, authorities located Resendez on a street near Pacific Boulevard and Slauson Avenue and converged on him when it was safe to do so, Montenegro said.
He surrendered peacefully and was allegedly found with the weapon, Montenegro said.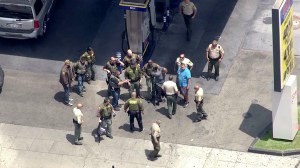 There was no indication that Resendez was provoked in any of the 8 alleged assaults, according to Montenegro.
"He would just walk up to them, and with a screwdriver, stab them," Montengro said.
Resendez, who may have drug and psychological issues, was a transient, according to Montenegro.
None of the eight bus attack victims suffered life-threatening injuries and the majority of them chose not to be hospitalized, according to Montenegro.
Anyone with further information was asked to contact the Sheriff's Department Transit Services Bureau at 323-563-5000.
Those who wish to remain anonymous can call LA Crime Stoppers at 800-222-8477 (800-222-TIPS).