This is an archived article and the information in the article may be outdated. Please look at the time stamp on the story to see when it was last updated.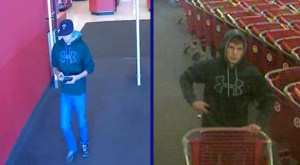 Police released surveillance pictures Thursday of a man believed responsible for stealing money and credit cards from women's purses and wallets during church services in Thousand Oaks and Camarillo.
The suspected thief was described as a white man in his 20s with blond or brown spiked hair.
He may be driving a dark brown or gray minivan, according to the Thousand Oaks Police Department.
Authorities are advising parishioners to keep their personal property with them at all times, even in church.
Anyone with information was urged to call authorities at 805-947-8108.