This is an archived article and the information in the article may be outdated. Please look at the time stamp on the story to see when it was last updated.
A man sought in connection with two carjackings in San Bernardino on Monday, including one involving a student at CSUSB, was arrested Tuesday after a pursuit in South Los Angeles.
The suspect, identified as Julio Cesar Dela Luz, was arrested along with two females who were riding in a stolen 2003 Lexus, according to a news release from the San Bernardino Police Department.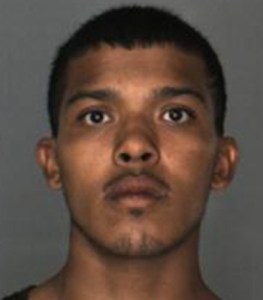 Dela Luz was sought in connection with the abduction and carjacking of a student on the campus of California State University, San Bernardino on Monday morning.
The armed suspect approached the student's green Ford Taurus and asked if he wanted to buy a pair of shoes, an email sent out by the school stated.
When the student declined, the suspect pulled out a handgun, got into the car and ordered the victim to drive away, according to school officials.
Once off campus, the suspect hit the student, demanded money and the victim's cellphone, campus police said.
The suspect then ordered the student to get out of the car and drove off, the release stated.
A short time later, the stolen Ford Taurus was involved in a collision near the 215 Freeway.
A nurse who stopped at the crash scene to offer assistance was then carjacked at gunpoint by the suspect who drove off in her 2003 Lexus, according to the release.
Early Tuesday morning, L.A. County sheriff's deputies spotted the stolen Lexus and a pursuit ensued, San Bernardino police said.
The chase ended when the driver crashed the stolen Lexus. He and two females inside the car took off on foot but were all eventually located and arrested, police said.
Dela Luz was positively identified by all of the victims, according to the release.
He was facing several felony charges, including kidnapping, carjacking, assault with a deadly weapon.