This is an archived article and the information in the article may be outdated. Please look at the time stamp on the story to see when it was last updated.
A 19-year-old man is speaking out on Thursday after surviving a bungee jumping malfunction that left him hanging upside down 30 feet in the air for about half an hour at the Ventura County Fair.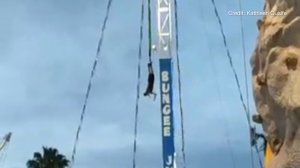 Roger Rodriguez, of Oxnard, was one of three people who became stuck on the bungee-jumping attraction around 8 p.m. Wednesday, according to the Ventura County Fire Department.
The two other fairgoers were in a basket between 90 and 100 feet in the air where they were waiting to jump, the department said. Rodriguez had already jumped off the platform.
"I woke up with a little bit of a headache, but I'm hanging in there," Rodriguez said. "The jump was fine but when I got to the floor, of course, the momentum pulled me back up. When I came down I started swinging side to side."
Rodriguez said that friends on the scene told him fair workers initially thought they could fix the ride themselves and waited a short while before calling the firefighters.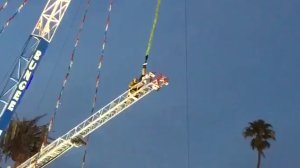 "What people told my friend on the floor is that they were trying to fix it themselves, but once they realized it got serious, that's when they called the ambulance," said Rodriguez. "What's going through my mind – I keep thinking, 'When are the firefighters going to come? They're not far away, this is only Ventura, they should be here soon.' I'm just happy that they saved my life."
Firefighters arrived on the scene and began rescuing Rodriguez. By this time, he had been hanging upside down for more than 30 minutes with blood rushing to his head.
Rodriguez told KTLA he felt like he was going to pass out at any second.
"When I was upside down looking at the ladder it was such an unreal moment for me because that's when I realized, 'Oh, finally, I'm saved,'" Rodriguez said. "I was on the verge of passing out; my head was filled with blood, my veins were popping out of my body. I remember telling them to hurry up, using the last strength I had in my body, telling them to hurry up. Finally I saw Trevor, that's the name of the firefighter who rescued me. He came to my rescue."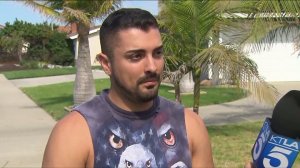 Rodriguez was transferred to hospital where he was evaluated and released with no major injuries.
"I'm fine now. I was released from the hospital last night with no head trauma. A headache, of course, with blood rushing to your head for that long," said Rodriguez.
Authorities are investigating what caused the malfunction and fair representatives have not yet released any details. Rodriguez told KTLA he thinks there may have been an issue with the attached cage lowering to the ground.
The entire experience taught Rodriguez to utilize every moment and appreciate each day.
"I learned to appreciate your life because you never know what horrible accident you could be in. It doesn't matter if you're at the fair, or a car, or who you're with, where you are; just to appreciate life and respect those who are in a really bad situation like that," said Rodriguez.
Rodriguez told KTLA he plans to celebrate his renewed lease on life by parasailing with his best friend for his 20th birthday in September.