This is an archived article and the information in the article may be outdated. Please look at the time stamp on the story to see when it was last updated.
A man was stabbed early Tuesday morning about a block east of Union Station in downtown L.A., police said.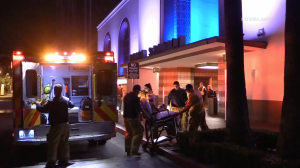 The incident occurred around 1:10 a.m. at 801 N. Vignes St., according to Los Angeles Police Department Lt. Robert Green.
The victim, who received multiple stab wounds to the face, was transported for medical treatment in stable condition, he said. The man was expected to survive.
A knife was used in the attack but has not been recovered, police said.
A person was detained while officers were canvassing the area about 10 minutes after arriving on scene, but authorities have not said if that person is a suspect.
Green did say the incident was "definitely not" gang related.
No further details were immediately available.