This is an archived article and the information in the article may be outdated. Please look at the time stamp on the story to see when it was last updated.
A man died after being struck in the head with a metal pipe during a family dispute involving two couples in the Westlake neighborhood of Central Los Angeles early Friday morning.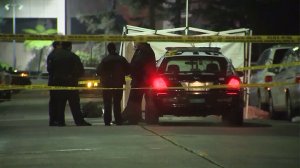 Officers were called to the 400 block of Hartford Avenue just before 1 a.m. after someone reported a fight going on the street, Los Angeles Police Department Lt. Joe Losorelli said.
Investigators determined the incident began with a dispute between two men and two women in a nearby apartment then spilled out into the street, Losorelli said.
Some of the people involved are family members, a detective at the scene told KTLA, but did not say how they were related.
The two men were involved in a fistfight when one of the men struck the other in the head with a metal pipe, Losorelli said.
The man who was hit with the pipe died at the scene, Losorelli said.
His identity has not been released.
Apparently the man who died had been holding the 18 inch metal pipe first, but somehow lost control to the other man before being fatally struck, the detective told KTLA.
The man who ended up with the pipe, and a woman described as his girlfriend, turned themselves in following the fight and were talking to investigators, Losorelli said.
It was unclear what prompted the argument between the couples.