This is an archived article and the information in the article may be outdated. Please look at the time stamp on the story to see when it was last updated.
A man suspected of assaulting his girlfriend over the weekend was shot and killed during an hourslong standoff with police in South Gate Monday night.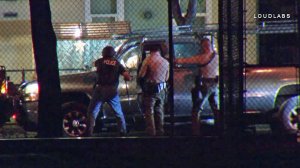 The events began Sunday, when the man allegedly struck his live-in girlfriend with a handgun, resulting in her being hospitalized, the Los Angeles County Sheriff's Department stated in a news release.
Detectives obtained an arrest warrant for the boyfriend, described only as a 40-year-old Hispanic man, and located him Monday night inside of his parked truck in the 2700 block of Illinois Avenue after his girlfriend told police she believed he was in the area.
South Gate Police Department officers contacted the man about 7:35 p.m., but he refused to leave the truck, prompting a standoff.
At one point, police used less than lethal weapons hoping the man would comply and give himself up.
"After the officers used less lethal weapons to try to get him out. The suspect began to fire at the officers. That's when the officer involved shooting occurred," Lt. Joe Mendoza said.
About 10:40 p.m., video showed authorities firing multiple rounds into the pickup truck before placing a K-9 officer inside.
Authorities discovered the man had been struck multiple times by the gunfire.
The man, who has not been identified, was pronounced dead at the scene.
A handgun was recovered following the incident, the Sheriff's Department stated.