This is an archived article and the information in the article may be outdated. Please look at the time stamp on the story to see when it was last updated.
A man who allegedly shot and killed his ex-wife on Christmas Day in Bellflower was arrested Tuesday, authorities said amid the ongoing investigation into the suspected attempted murder-suicide.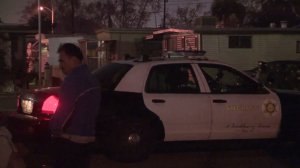 Santiago Palacios-Salgado, 57, has been arrested on suspicion of murder, according to a news release from the Los Angeles County Sheriff's Department. 
The suspect went to the 9100 block of Rosecrans Avenue on Monday afternoon, where he contacted his ex-wife. It was unclear what led up to the shooting, but at some point, "the suspect produced a firearm, shot the victim at least once, and then turned the firearm on himself," said sheriff's Lt. Rodney Moore.
When deputies responded to the location around 3:15 p.m., they found the victim suffering a gunshot wound to the upper torso, according to the release.  She was pronounced dead at the scene.
Authorities have not yet released her name.
Palacios-Salgado also had an apparent self-inflicted gunshot wound to the upper torso and was taken to the hospital, where he was still being treated the following day, authorities said. He was last reported to be in fair condition. 
The man and woman were a previously married couple who have since divorced, the release stated. They had two children together, a 6-year-old son and 8-year-old daughter.
Both were present when the shooting took place but neither was injured, according to authorities.
A motive for the shooting was not immediately known.
Anyone with information is asked to call the sheriff's Homicide Bureau at 323-890-5500. Those would like to leave a tip anonymously can contact Crime Stoppers by dialing 800-222-8477.