This is an archived article and the information in the article may be outdated. Please look at the time stamp on the story to see when it was last updated.
The man suspected of killing a police officer in Whittier and his own cousin in East Los Angeles was identified on Tuesday afternoon as 26-year-old Michael Christopher Mejia, the Los Angeles County Sheriff's Department said.
Mejia, who was released from Pelican Bay State Prison last April, is suspected of fatally shooting Whittier Police Department Officer Keith Boyer and 47-year-old Roy Roger Torres in two separate incidents that happened hours apart on Monday, according to the department.
Torres was shot to death in the 1400 block of Volney Drive in East Los Angeles around 5:30 a.m., according to Rudy Molano with the L.A. County coroner's office.
Less than three hours later, Mejia allegedly opened fire on two police officers in Whittier, killing Boyer and injuring the other, the L.A. County Sheriff's Department said.
The slain officer was described as a veteran of the department who was among "the best of the best," according to Whittier Police Chief Jeff A. Piper.
The second officer, identified as Officer Patrick Hazell, is expected to survive.
Boyer and Hazell were responding to a traffic collision around 8:30 a.m. Monday when the shooting happened, according to sheriff's Lt. John Corina.
The suspect, who was driving a vehicle allegedly stolen out of East L.A., had rear-ended a car on Colima Road and Mar Vista Street, a sheriff's news release stated.
When the officers contacted Mejia they asked him to get out of the vehicle and were going to pat him down to check for weapons, according to Corina.
As he exited the car, the suspect brandished a handgun and shot at the officers, who returned fire, the release stated. It was unknown how many shots were fired during the close-range gunbattle.
Mejia was also injured and hospitalized in stable condition.
Authorities initially described him only as a "known gang member" from Los Angeles who was recently paroled on early release. Corina said he had an extensive rap sheet.
A spokesman for the California Department of Corrections and Rehabilitation said Tuesday that Mejia was not on parole, but had been released to the supervision of the county Probation Department in April 2016.
According to the Los Angeles Times, Mejia was sentenced to four years in state prison in 2010 for robbery, and another two-year sentence in 2014 on charges including grand theft auto.
L.A. County jail records show six arrests for a Michael C. Mejia since July 2016, including Monday's and two others this year.
Mejia was last arrested on Feb. 2 — his second in 2017 — for violating his release terms, the Times reported. He served a 10-day sentence before being released again.
"Unbeknownst to the Whittier police officers, when they went to pull the car over, they had a murder suspect … in a stolen car," Corina said.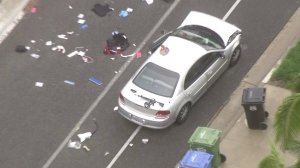 Torres was identified as Mejia's cousin.
A GoFundMe page set up to cover the cost of a memorial fund described Torres as a "loving" father, son, uncle and cousin, a sentiment echoed by his niece.
"He was a loving person, he's give you the shirt off his back if you needed it," said the woman, who identified herself as Tiffany. "He was like the older brother that I didn't have."
A motive for the first shooting remains under investigation.
In a tearful interview, the victim's aunt told KTLA the suspect goes by "Mikey" and lived with his grandfather in Commerce. She said he had a criminal history that dated back to when he was a child.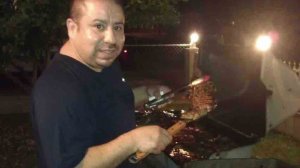 "He's hurt other people before, and he's been in prison for that. And he should never have been let out. This is who they should keep in prison … he killed other people before," the aunt said through sobs. "There was no need for this to happen."
L.A. County Sheriff Jim McDonnell addressed early release and rehabilitation programs when he spoke alongside Piper at a news conference Monday afternoon.
"We're putting people back on the street that aren't ready to be back on the street," McDonnell said.
Piper, noting he'd seen a rise in violence against officers during arrests, referenced ballot-box propositions approved in the past few years that he said were aiding in increasing crime.
"You have no idea how it's changed in that last four years," the police chief said. "People don't want to follow rules. People don't care about other people."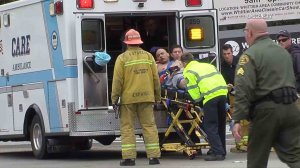 A California Department of Corrections and Rehabilitation spokesman disputed what the Sheriff's Department said, however, telling KTLA the suspect served his entire sentence and had not been released early.
The suspect was under the supervision of the L.A. County Probation Department, according to Reaver Bingham, the deputy chief of the department.
He had "not fulfilled his obligations" of probation, Bingham said. The suspect was eligible for county supervision under AB 109, a 2011 California law meant to reduce the number of inmates in state prisons.
The suspect, who had served time in a state prison, was released into the supervision of county probation because his offense was considered "non-serious, non-violent, and non-sexual," according to Bingham.
Mejia remains hospitalized and has been booked on suspicion of a probation hold, according to the release. He is being held without bail.
Charges have not yet been filed in the case.
KTLA's Melissa Pamer, Jennifer Thang and Alexandria Hernandez contributed to this story.