This is an archived article and the information in the article may be outdated. Please look at the time stamp on the story to see when it was last updated.
A 22-year-old South Los Angeles man used his online gaming personality to entice children to send him sexually explicit videos, Los Angeles police said Wednesday, hours after his arrest following a multi-agency investigation.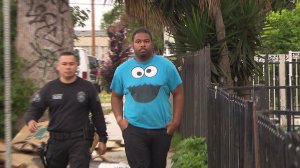 Cushqader Warren was taken into custody during a search of his South L.A. home Wednesday morning. He is being held on $1 million bail.
Warren preyed on young children he befriended through Wizard101, a massively multiplayer online game, Los Angeles Police Department detectives said at the scene of his arrest.
Warren allegedly uploaded YouTube videos to get children to contact him to try to win a free Wizard101 game card. The victims were instructed to produce sexually explicit videos so Warren could download them, according to LAPD.
"I didn't know it was illegal at the time," Warren told KTLA as he was placed into a patrol car Wednesday morning. "I had no idea. … I'm so sorry."
Warren wore a turquoise T-shirt featuring the "Sesame Street" character Cookie Monster as he was arrested.
The National Center for Missing and Exploited Children alerted authorities that Warren had been uploading photos and videos of child pornography, prompting the investigation, according to an LAPD news release. Authorities at the scene of the arrest said Facebook tipped investigators to the alleged child pornography.
Detectives said they have identified at least 67 victims from all over the world.
Warren was booked just before 10 a.m. on suspicion of felony lewd and lascivious acts.
LAPD investigators who are part of the Los Angeles Regional Internet Crimes Against Children Task Force worked with federal agents from Homeland Security Investigations on the case.
LAPD believes there may be additional victims, and anyone who has information on Warren is asked to call task force Detective Lisette Garcia at 562-624-4085 or HSI Special Agent Kimmesia Sampson at 562-624-4037.