This is an archived article and the information in the article may be outdated. Please look at the time stamp on the story to see when it was last updated.
A man suspected of shooting a San Bernardino County Sheriff's Department deputy outside a Hesperia gas station is also believed to have randomly fatally shot a man in Highland and committed two separate shootings on the 210 Freeway in Rialto this week, investigators confirmed Friday.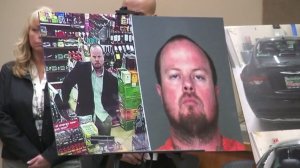 Kenneth Scott Welch of Redlands is being held on $25 million bail.
Sheriff Jim McMahon called Welch a "hateful individual" at an 11 a.m. news conference where investigators identified Welch as the suspect in the other crimes.
Welch, 37, was arrested Thursday in the 1700 block of East Colton Avenue in Redlands several hours after allegedly shooting Deputy Patrick Higgins, 25, after the deputy responded to a robbery call at a Chevron station in Hesperia.
Higgins had identified Welch as a suspect in the robbery and exchanged words with him as Welch sat in a car in the gas station parking lot, sheriff's spokeswoman Cindy Bachman said. When Higgins deployed pepper spray, Welch allegedly shot him and fled the scene in his vehicle.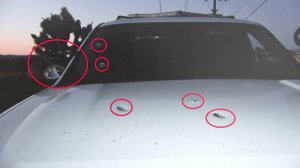 Higgins, who was wearing body armor, suffered "significant trauma to his chest" but managed to retreat to his patrol vehicle and return fire, Bachman said.
The deputy followed the shooter's vehicle for about a half-mile before stopping and calling for medical help. Higgins was taken to a local hospital and was later released.
Welch was arrested hours later near his home and booked on suspicion of attempted murder. He had a Glock 9 mm handgun with him when he was arrested, and a bag inside the car contained an AR-15-style rifle, authorities said.
In the two days before the shooting of the deputy, Welch opened fire on others, investigators said.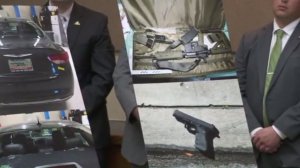 Welch is believed to have fired on two vehicles traveling on the 210 Freeway in Rialto Tuesday night, striking a driver in one vehicle and a passenger in another.
On Wednesday morning, Mario Figueroa, 48, died after being found with a gunshot wound in the middle of a street in Highland, according to the Sheriff's Department. Welch shot him in the head, authorities said.
Figueroa did nothing to provoke the shooting, which occurred after Welch allegedly followed him off the freeway. Figueroa got out of his vehicle and Welch, still in his own car, fired, sheriff's Sgt. Robert Warrick said.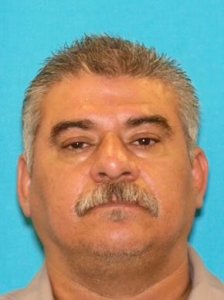 Figueroa was returning from dropping off his nephew at work when he was shot.
"The suspect cold-heartedly left him there to die as he fled the scene," Warrick said at Friday's news conference.
Figueroa's niece, Julie Borquez, also spoke at the news conference, tearing up.
"On Wednesday morning, my uncle was murdered by Kenneth Welch. My uncle Mario Figueroa was an innocent man," Borquez said. "He only wanted to do more with his life."
A car connected to the freeway shootings and the Highland killing was found Thursday at Welch's home with its rear window shattered by Higgins' return fire, authorities said.
The Sheriff's Department worked with Rialto police to confirm Welch is the suspect in the freeway-shooting cases.
Sheriff's investigators are contacting "all the local agencies" to look for connections to any other shootings or homicides, McMahon said.
A man with the same name and approximate age of Welch has a criminal record in California and Colorado, including cases involving receiving stolen property and forgery, records show.