This is an archived article and the information in the article may be outdated. Please look at the time stamp on the story to see when it was last updated.
Police have arrested a 78-year-old Simi Valley man they believe tried to lure a 6-year-old girl into a bathroom at a grocery store in Riverside last month.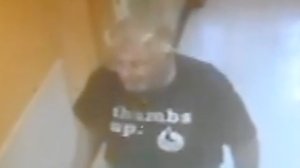 Surveillance video of the incident, which took place at the Food 4 Less located at 3900 Chicago Ave. on Feb. 15, was released Wednesday as police asked the public for help in identifying a man seen gesturing to a young girl.
The video posted to the Riverside Police Department's Facebook page shows the little girl walking toward a restroom when the man attempts to get her attention.
The man, who is standing near the entrance to the men's restroom, motions for the girl to come toward him. He told her he would give her a treat, according to the Police Department.
Police released the video in hopes the public would be able to help identify the man. And on Thursday, Riverside Officer Ryan Railsback confirmed that a man detained was later booked on suspicion of misdemeanor child annoyance. The suspect was taken into custody about 7 a.m. at a fitness center near the Food 4 Less, Railsback said.
He was identified as Theodore Childers, 78, of Simi Valley.
The man in the video was described as a 60-to-70-year-old white man, standing about 5 feet 10 inches tall and weighing close to 200 pounds. He had gray hair and was wearing a dark-colored shirt with white lettering and unknown graphics.
Food 4 Less issued the following statement about the incident:
The safety of our customers and associates is our number one priority at Food 4 Less. We will continue to work closely with the police and the community to provide any assistance needed. We strongly encourage anyone with information on this suspect to reach out to the police immediately.
KTLA's Melissa Pamer contributed to this article.