This is an archived article and the information in the article may be outdated. Please look at the time stamp on the story to see when it was last updated.
The man suspected of vandalizing Donald Trump's star on the Hollywood Walk of Fame was arrested and released from custody Thursday, when he said he was not ashamed of his actions and was prepared to pay the consequences for committing a crime.
James Otis, 52, spoke to reporters after his release.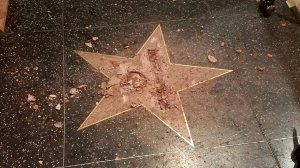 "I admitted my mistakes and am now dealing with my consequences, unlike Mr. Trump, who has never admitted what he's done," Otis said. "And that's why I destroyed the star; I broke the law."
The star was damaged Wednesday morning in an incident that was captured on video and made headlines nationwide.
The video showed a man dressed as a city worker destroying the presidential candidate's star with a pickaxe as he talked to reporters.
Later, a man who identified himself as James Otis took responsibility for the vandalism.
Otis said he planned to hold a news conference and then turn himself in, but police found Otis first and arrested him, Officer Aareon Jefferson with the Los Angeles Police Department confirmed.
He was arrested by LAPD's Hollywood Division about 7:45 a.m. and had bailed out about 2:40 p.m., jail records indicate. Otis posted $20,000 bail.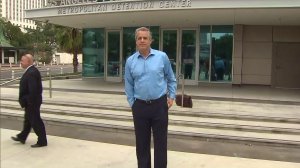 After his release, Otis held a brief news conference alongside his attorney, Mieke ter Poorten, outside the Metropolitan Detention Center in downtown L.A. He said he admitted to police he had vandalized Trump's star.
Ter Poorten said her client was arrested on suspicion of felony vandalism.
Otis said he knew he might be imprisoned and he is not ashamed of his actions.
"I had to do it – to make myself feel whole and to be part of the democratic process, I had to do the nonviolent action," Otis said.
He accused Trump of having "derailed the entire election" and said the vandalism was his way of dealing with his anger.
Otis said he spent six weeks planning the action. He said he returned the star's brass to the Hollywood Chamber of Commerce.
Otis on Wednesday said he destroyed the star to help the 11 women who have accused Trump of sexually assaulting them, and other victims who he said could come forward in the future.
He said he planned to sell parts of the star and donate the proceeds to the women.
An heir to the Otis Elevator Company fortune, Otis' great-great grandfather invented Listerine, he said. He owns the world's largest collection of Dr. Seuss's original art.
He is a supporter of non-violent activism; he called Wednesday's vandalism "direct action."
He said he had been arrested about two dozen times for protest-related actions.
Asked what he would called himself, Otis responded: "I'm a Democrat."
He is due in court Nov. 18.
https://www.instagram.com/p/BMB4r3lAA89/
Correction: An earlier version of this article had the incorrect spelling of Otis' attorney's name.