This is an archived article and the information in the article may be outdated. Please look at the time stamp on the story to see when it was last updated.
A man in his 90s was tied up and robbed during a home invasion in Rancho Palos Verdes Tuesday night, authorities said.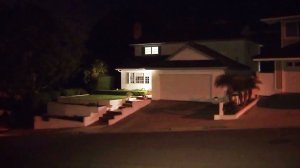 The man was the only one home when two robbers entered the residence in the 2000 block of Van Karajan Drive at about 10:53 p.m., Los Angeles County Sheriff's Department Sgt. Keyshanette Gipson said.
The victim was asleep in an upstairs bedroom when the intruders broke in through a back window, woke him and tied him up with a belt, a source at the scene told KTLA.
The victim was further bound with a telephone wire, but was not seriously injured and did not require hospitalization, the source said.
The robbers then went on to ransack the house, in the northeastern part of Rancho Palos Verdes bordering San Pedro, before leaving.
Neighbors said the victim is a longtime resident of the neighborhood.
"I'm so sorry to hear that. ... It makes us feel a little uneasy around here," one neighbor said.
A neighbor also told KTLA the victim's wife had died about a year ago and that he lived in the home alone.
The intruders were described only as two white men, Gipson said.