This is an archived article and the information in the article may be outdated. Please look at the time stamp on the story to see when it was last updated.
WESTMINSTER — Police are asking for the public's help in locating a man who walked out of a gun shop with an assault weapon stuffed down the front of his pants.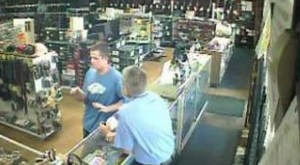 The rifle, a black FNH SCAR 16 semi-automatic, was stolen last July from the Stockade on Westminster Blvd.
On Friday police released surveillance photos of the suspect in hopes someone will be able to identify him.
The .223-caliber weapon is valued at $4,600.