This is an archived article and the information in the article may be outdated. Please look at the time stamp on the story to see when it was last updated.
Authorities are trying to find a man wanted for exposing himself to three girls under the age of 18 in Yucaipa and Beaumont in May.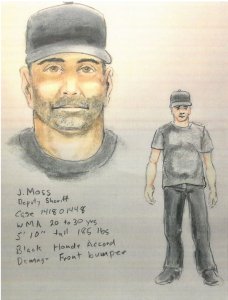 The first incident began when two girls walked at 11:30 a.m. on May 12 in the 12700 block of Holmes Street and saw a man near a tree, the Yucaipa Police Department said in a news release issued Friday.
The suspect unzipped his pants and made a sexual comment to the girls who turned and ran, authorities said.
Authorities said he stood next to a black Honda that was a Civic or Accord with front end damage.
An investigation revealed a similar crime took place on May 23 in Beaumont, the Police Department said.
In the second incident, authorities said, the suspect drove a dark colored Honda and exposed himself to a girl.
He also made "sexual advances" toward her, the Police Department said.
Authorities described the man as a 20-to-30-year-old man who wore all black clothing with brown facial hair. He had on a black baseball styled cap and was in an early 1990s Honda with damage.
A sketch of the man was constructed and Yucaipa police are looking for help to identify him.
Anyone with information on the case is asked to call the Yucaipa Police Department Investigations Bureau at 909-918-2305 or anonymously to the We-Tip hotline at 800-782-7463.