This is an archived article and the information in the article may be outdated. Please look at the time stamp on the story to see when it was last updated.
A man is wanted by the Manhattan Beach Police Department for the random sexual assault of a teenage girl, which was witnessed by two other girls and stopped by one of them, police said Saturday.
Manhattan Beach officers received a call about a man assaulting a teen girl at about 9:37 p.m. Friday night, authorities said. A later call about a man exposing his genitals in the area of 35th Street and Flournoy Road — which police received at about 9:50 p.m. — may be involving the same suspect since the description of a vehicle is similar, police said.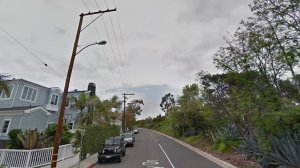 A group of three teenage girls were walking through the parking lot of a Von's grocery store in the 400 block of Manhattan Beach Boulevard when they saw a man masturbating in his car, police said. The man "called out to the girls," police said in a news release, though not specifying what was said. The girls ignored him and kept walking, going into the store.
Thinking the man would still be outside, the girls stayed inside the store until they thought he had left the area, according to police. Once outside the store, they walked south on North Valley Drive.
But once they approached the area of that road and 3rd Street, the same man came up to them from behind, police said. He then shoved one of the girls to the ground and sexually assaulted her. Another girl started punching the man until he finally let the other girl go.
The teens then ran home and called 911.
The man believed to be behind the assault is described by Manhattan Beach police as around 20 to 30 years old, dark-skinned and Middle-Eastern or Asian. He was wearing a red and black flannel shirt at the time of the attack and the vehicle he was seen inside is described as a dark-colored 4-door sedan "with an Uber sticker on the front passenger side window," police said in a news release.
That's the same vehicle description police were given in another call that came in just 13 minutes after the call about the girl being assaulted. Authorities said the later call was about a man exposing himself.
"We believe this is possibly the same suspect in the sexual assault," police said in a news release.
Police are asking residents in the area to check home surveillance footage if possible to see if the man or his vehicle were caught on camera. Anyone with information can contact Detective Aleina Smith at 310-802-5133.