This is an archived article and the information in the article may be outdated. Please look at the time stamp on the story to see when it was last updated.
The man who police said Tuesday confessed to burying the body of a missing former reality television show contestant at his home in Lennox has been arrested and booked into jail, according to inmate records.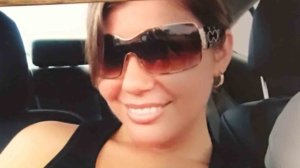 Police continued to search the yard of 34-year-old Jackie Jerome Rogers on Wednesday morning, one day after the female remains were discovered in a shallow grave on the property, which is located in the 5000 block of West 106th Street. A coroner's van was visible on the street after dawn.
Investigators have not formally identified the person, but they believe the body is that of 36-year-old Lisa Marie Naegle, a nurse and onetime contestant on E! Television's "Bridalplasty" who was reported missing on Monday, Los Angeles Police  Detective Meghan Aguilar told KTLA Tuesday night after the grim discovery.
"The information he has provided has led them to believe that Lisa has been murdered and that her body is at Rogers' residence in Lennox," she said.
Rogers, a nursing student who was studying under Naegle at West Los Angeles College in Culver City, allegedly confessed to burying the body in his yards. Investigators then went to the property and discovered the shallow grave, according to police.
Authorities suspect the two were having an affair, but a motive was not immediately known.
It was also unclear how long the body had been buried, and when the person died.
Rogers had initially been detained Tuesday morning for questioning before L.A. County inmate records indicated he had been arrested and booked into jail.
The Los Angeles Times reported that he was taken into custody on suspicion of murder, though the L.A. County DA's office has yet to file charges in the case.
Derek Harryman, Naegle's husband,  told KTLA on Monday that he had last heard from his wife around 2:30 a.m. Sunday after she left a birthday party at the Alpine Village restaurant in an unincorporated area near Torrance.
Neagle told her husband she was going to get food, but failed to return to their San Pedro home. She also didn't show up to her teaching job at the college the following morning.
Family members told KTLA they contacted police after speaking with Rogers, who first told them he had attended the party with Naegle.
He later changed his story, and Michelle Naegle, the victim's sister, said that Rogers had seemed "antsy" and "nervous" when they started questioning him.
The family has set up a GoFundMe page to raise money for Naegle's funeral.