This is an archived article and the information in the article may be outdated. Please look at the time stamp on the story to see when it was last updated.
A 27-year old man who allegedly stabbed a passenger on a bus in East Los Angeles in an incident that was caught on camera earlier this week has been arrested, officials announced Thursday.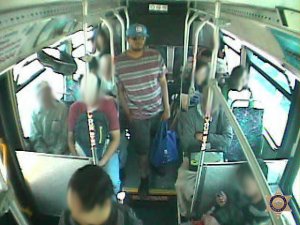 Manuel Ortiz was arrested early Thursday morning, Los Angeles County Sheriff Jim McDonnell tweeted.
Ortiz is expected to be charged with attempted murder.
The incident occurred about 10:15 a.m. Monday while a Montebello Public Transit bus was headed west in the 5700 block of Whittier Boulevard.
A man is seen a video pulling out a knife and stabbing another man several times in the upper torso, according to the Sheriff's Department.
The suspect appeared calm before he pulled out the blade from his pants. The attack appeared to be unprovoked and the motive remains unclear.
"It was a savage attack and one that caused us great concern," Sheriff McDonnell said in a news release Thursday. "It was seemingly unprovoked, as the suspect walked towards the front of the bus, pulled a knife and stabbed the victim multiple times."
The victim remains in critical condition. He has not been identified.
Ortiz was identified with help from the public, officials said. He was treated at a hospital for unknown reasons after the arrest.
ARREST MADE @LASDHQ Homicide arrest 27yr old Manuel Ortiz today 4/12 at approx 1:00am. He is being charged with attempted murder for the stabbing incident on the Montebello Public Transit bus. Thank you to the public & media for being very involved in helping Detectives. pic.twitter.com/26qp5PwzTK

— Jim McDonnell (@LACoSheriff32) April 12, 2018