This is an archived article and the information in the article may be outdated. Please look at the time stamp on the story to see when it was last updated.
A man who allegedly drove his SUV into a group of pedestrians in downtown Los Angeles earlier this week has been charged with assault, officials announced Thursday.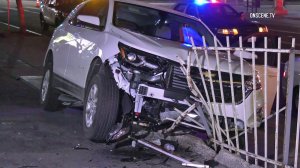 The incident occurred about 2:30 a.m. Monday near the intersection of East Cesar Chavez Avenue and North Vignes Street, according to the Los Angeles Police Department.
Ryad Boudghenestambo, 33, was sleeping in his SUV in a parking lot in the area when he was awoken by a group of people who he allegedly got into some sort of dispute with.
The five people walked away, but Boudghenestambo allegedly drove his vehicle at the group, hit and injured the pedestrians, according to the Los Angeles County District Attorney's Office.
Boudghenestambo then hit a fence. He was eventually arrested.
Boudghenestambo was charged with five counts of assault with a deadly weapon on Wednesday.
He faces eight years in prison if convicted and his bail was set at $150,000, officials said.