This is an archived article and the information in the article may be outdated. Please look at the time stamp on the story to see when it was last updated.
A man who struck and killed a 15-year-old pedestrian in Palms while he tried to flee police in November 2015 was sentenced to 27 years to life in state prison, the Los Angeles County District Attorney's Office said Monday.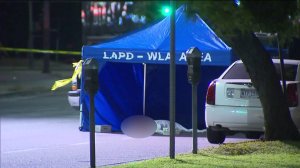 Paul Randolf Brumfield Jr., 50, was convicted following a 13-day long trial on the following charges: second-degree murder; driving or taking a vehicle without consent; gross vehicular manslaughter with an allegation of leaving the scene; and hit-and-run driving resulting in death, according to a DA's news release.
Brumfield was driving a stolen car down Venice Boulevard and trying to evade a police officer on the night of Nov. 15, 2015, authorities said.
He sped up to approximately 90 miles per hour and hit the victim, 15-year-old Jack Phoenix, who was crossing Venice at Hughes Avenue, according to prosecutors.
The defendant, who fled the crash scene, didn't brake after hitting the teen.
The force of the collision decapitated the young victim, the release said.
Four days later, investigators located the stolen car; Phoenix's head was found inside, covered by a comforter, a witness testified during Brumfield's trial.
The defendant was arrested the day after the crash on an unrelated car burglary case.
Witness statements, DNA evidence and cellphone records were used to prove that Brumfield was driving at the time of the deadly crash.
Deputy DA Eva Jabber Stodel prosecuted the case, which was investigated by the Los Angeles Police Department.