This is an archived article and the information in the article may be outdated. Please look at the time stamp on the story to see when it was last updated.
A 20-year-old man who was shot after allegedly firing on deputies while they conducted a traffic stop in Compton had been released from prison weeks earlier, the Los Angeles County Sheriff's Department said Friday.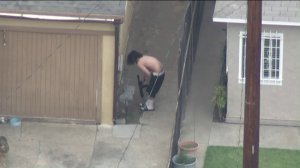 Ricardo Cendejes got out of prison on Sept. 26 under Post-Release Community Supervision, according to a sheriff's news release.
He remained in extremely critical condition Friday after being hit by deputy gunfire the previous afternoon in the 2100 block of Shauer Street.
The incident began around 2:40 p.m., when the suspect — who authorities said had been roaming the neighborhood with an assault-type rifle — spotted deputies making a traffic stop, according to sheriff's detectives.
He allegedly opened fire on the deputies, who were in the area of Aranbe Avenue and Lucien Street at the time, the department said.
That prompted the deputies to set up a containment area as they searched for the shooter; a SWAT team was also called to the scene.
While looking for Cendejes, authorities said they saw him emerge from his residence with a firearm and jump over a fence into his neighbor's yard.
The SWAT team surrounded the neighbor's home while the suspect positioned himself along an exterior wall of the residence; at some point, he placed the rifle against the same wall, according to the Sheriff's Department.
Deputies opened fire on Cendejes when he walked back toward the weapon "as if he was going to pick it up," the department said in a separate news release.
He was transported to a hospital after paramedics arrived at the scene a short time later. Sheriff's Lt. John Corina said Thursday evening that it was unknown whether Cendejes would survive.
Authorities did not say how long the suspect had been in prison before his release, nor did they release any details on why he was serving time.
Thursday's incident remained under investigation, and anyone with information is asked to call the department's Homicide Bureau at 323-890-5500. Anonymous tips can also be left by contacting Crime Stoppers at 800-222-8477.