This is an archived article and the information in the article may be outdated. Please look at the time stamp on the story to see when it was last updated.
Two months after Arsen "Tony" Roberts first walked through rubble of what had been his longtime Ventura home, the man whose tragic story touched the hearts of viewers across the country returned to the burned-out property this week to talk about a new friend, one he calls his "guardian angel," who came to his aid when he needed it most.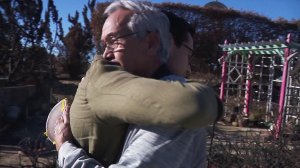 We first met Roberts, 74, during the still-dark hours on the morning of Dec. 6, when he first encountered the devastation caused by the Thomas Fire.
The home Roberts had lived in on Skycrest Court since 1961 was completely destroyed.
"Everything is burned down to the ground," said Roberts, who fled the home so quickly he was unable to take his wallet.
Roberts was even forced to leave without his two cats, his only companions since his wife died a few years ago.
"I don't know what I'm going to do right now, I can't think right," Roberts said at the time. "It hurts."
Roberts home was just one of hundreds destroyed in the Thomas Fire. Yet his story stood out, drawing concern from many viewers after his story first aired.
A friend managed to track down Roberts, who had spent six nights sleeping in his truck in a mall parking lot.
"They gave me something to eat. They gave me clean clothes to wear because I was worse than a homeless person because I don't have anything," Roberts said.
Then Roberts met Zach Garcia, a 25-year-old Ventura native he now describes as his "guardian angel."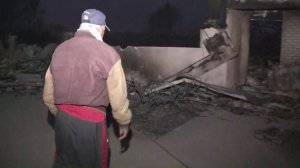 Garcia spent 10 days searching unsuccessfully for Roberts after hearing about his story on TV.
Garcia shared video his search for Roberts on Facebook, posting two Facebook Live videos. One during his search for Roberts, and another 10 days later when the two finally met.
Garcia found Roberts by sending a letter to the missing man's burned-out home.
The letter was held at a post office until Roberts collected it.
When the two finally made contact, Garcia helped Roberts get his ID, apply for disaster relief and deal with his insurance company.
Garcia also set up a GoFundMe page to help raise money for Roberts, and invited him to have Christmas dinner with his family.
"I know he calls me his guardian angel but I really think it's the other way around. He's been such a blessing in my life, and he's just a special person to me … we're great friends," Garcia said.
Like so many others, Roberts is still far from recovering from what turned out to be the largest wildfire in California history.
But, thanks to his "guarding angel," Roberts is no longer fighting the battle all alone, and he appreciates the new friendship.
It's "something I will treasure the rest of my life," Roberts said.