This is an archived article and the information in the article may be outdated. Please look at the time stamp on the story to see when it was last updated.
James Otis said he was prepared to pay the consequences after admitting last month that he vandalized Donald Trump's star on the Hollywood Walk of Fame.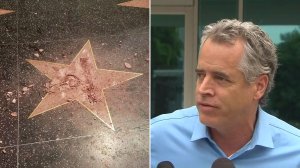 More than three weeks after the incident, the activist and heir was charged with one count of felony vandalism.
Otis, 52, is scheduled to be arraigned Friday in downtown L.A., the Los Angeles County District Attorney's Office announced Thursday.
Otis used a pick axe and sledgehammer on Oct. 26 to smash the star with the name of Republican presidential candidate, now president-elect. The early morning stunt was was captured on camera on Hollywood Boulevard.
"I admitted my mistakes and am now dealing with my consequences, unlike Mr. Trump, who has never admitted what he's done," Otis said at a news conference after he was released from jail. "And that's why I destroyed the star; I broke the law."
Otis was arrested the morning after the vandalism. He said he "had to do it" and that he planned the "nonviolent action" for six weeks.
He planned to sell the star and donate the proceeds to women who have accused Trump of sexual assault.
If convicted as charged, Otis could be sentenced to up to three years in jail.
An heir to the Otis Elevator Co. fortune, Otis said his great-great grandfather invented Listerine.