This is an archived article and the information in the article may be outdated. Please look at the time stamp on the story to see when it was last updated.
A man who family members said came to the aid of a stranger after he was jumped by four men in downtown Riverside has died, several days after the incident left him injured and in a coma.
Police believe the victim, Adam Valles, tried to break up a fight before he was sucker punched in a separate altercation early Saturday.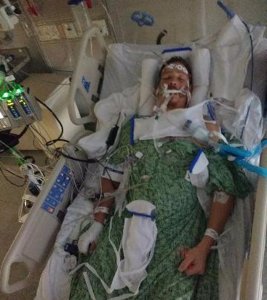 The incident began shortly after 2 a.m., when an altercation that started inside a bar spilled out onto a street in the area of Mission Inn Avenue and Main Street, according to Riverside Police Department Officer Ryan Railsback.
Valles was not involved in the dispute, although Railsback said it was possible someone else with him at the time was.
Investigators think the victim may have been trying to play peacemaker when someone else knocked him down. After the first incident ended, a second altercation began in which the victim was believed to have been involved in, according to Railsback.
At some point, Valles was sucker punched by a person not involved in the initial confrontation, he said. The blow caused him to fall and hit his head.
Valles was critically injured in the fall and hospitalized in the intensive care unit with a brain hemorrhage, his wife, Johana Cordova Valles, stated in a GoFundMe page. On the fundraising page, she wrote about the incident, saying she and her husband witnessed a man getting jumped by four others, and that her husband "calmly broke up the fight."
He then went to help someone who was on the ground when he was tackled by another individual; he fell and hit his head on the ground. When he got up, a different person punched him, which caused him to fall and resulted in the fatal injury, according to Johanna Valles.
Her husband had been in a coma before he died, she wrote, "for trying to help a stranger."
She described Valles as a "great husband and an amazing father," someone who "always put others needs before his own."
"Adam I love you baby, You will be in my heart always," Johana Valles wrote. "I will make sure that [they] know their daddy died a hero."
Valles was a father to an 8-year-old child and 4-year-old child.
The fundraising page was trying to raise $30,000 to pay for funeral costs. By Friday night, it had raised more than $8,000.
A vigil for Adam Valles was held at 6p.m. Friday at 3700 Main St. Johana Valles spoke to KTLA about her anguish at the event.
"My children should not go without a father because of some idiot," said Johana Valles. "I want him home with me. If you were there please come forward. Give us closure; we need it."
The incident that led to the man's death remains under investigation, according to Railsback. He added that no arrests have been made yet.
As part of the investigation, police released Snapchat and surveillance videos related to the deadly incident as they requested the public's help in sorting out what happened, Railsback said. He noted that the videos clearly show others recording the incident, and that those people need to step forward to aid in the investigation.
Anyone with information can contact the Police Department at 951-353-7100.
KTLA's Jennifer Thang contributed to this story.