This is an archived article and the information in the article may be outdated. Please look at the time stamp on the story to see when it was last updated.
A man who grabbed a Los Angeles County sheriff's deputy's gun outside a City of Industry 7-Eleven was shot by the deputy before barricading himself with a clerk inside the store storage room early Thursday, authorities said.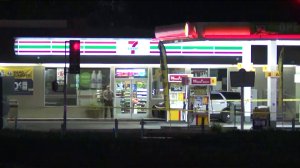 The incident began to unfold about 3:20 a.m. when a deputy was inside the 7-Eleven at 2600 Pellissier Place and heard a crash outside the store.
The deputy went outside and saw a vehicle had jumped a curb, hit a sign in the area and crashed into a parked vehicle. A woman was running from the crash, and a man was chasing after her. The man eventually began running toward the crashed vehicle, headed toward the deputy's vehicle and it appeared that he might want to take the patrol car, sheriff's Lt. Scott Hoglund said.
The two got into a struggle and the suspect got a hold of the deputy's gun, Hoglund said. The deputy managed to regain control of the gun and shot the suspect.
Three shots were fired, and the suspect, who was not armed, was struck at least once.  He then ran into the 7-Eleven, allegedly grabbed the store clerk and ran into a storage room with her, Hoglund said.
The man eventually let the clerk go and turned himself in to authorities. The man's condition is unknown, but he was transported to a trauma center. He was only described as being 31 years old.
No deputies were injured, and the clerk is expected to be OK. Another clerk was inside the store at the time and was also uninjured.
In a news release later Thursday morning, authorities said one "suspect" was in custody in connection with the incident.
The incident remains under investigation and no further details were released.
Hoglund said the suspect may also have been involved in a hit-and-run crash along the northbound 605 Freeway near the Peck Road before getting off the freeway and crashing at the 7-Eleven.
Homicide detectives remained at the scene at 7 a.m. processing the scene and talking to witnesses, Hoglund said.
No further details about the suspect have been released.
Roads near the 7-Eleven closed for the investigation.