This is an archived article and the information in the article may be outdated. Please look at the time stamp on the story to see when it was last updated.
A man who watched as his dog was shot and killed during a confrontation with Hawthorne police has filed a civil-rights suit against the city and three police officers.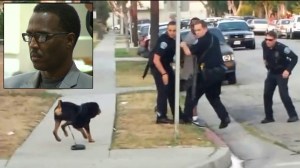 Leon Rosby alleges the June 2013 incident was part of a "pattern of harassing conduct" carried out by Hawthorne police after he complained about alleged corruption within the department.
According to the suit, the officers' conduct was "directed at Mr. Rosby and was intended to intimidate and harm him and to cause psychological trauma" by forcing him to watch his dog being killed.
Rosby pulled up to the scene of a police standoff at the corner of 137th Street and Jefferson Avenue and began filming the police with his cellphone in one hand and his dog's leash in the other.
Click here to read the full story at LATimes.com.