This is an archived article and the information in the article may be outdated. Please look at the time stamp on the story to see when it was last updated.
A man whose body was found in a vehicle in the Sand Fire burn area was identified Tuesday, and a coroner's official said the man had refused to evacuate.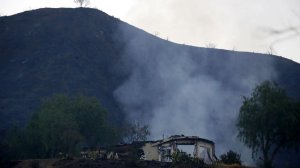 Robert Bresnick, 67, was identified by Assistant Chief Ed Winter of the Los Angeles County coroner's office.
Bresnick's body was discovered Saturday evening by firefighters working on Iron Canyon Road in Santa Clarita, where the Sand Fire burned several homes.
Winter said Bresnick had refused orders from the county Fire Department and Sheriff's Department to evacuate.
Bresnick died in a vehicle, according to coroner records.
A neighbor told KTLA on Saturday evening that Bresnick's female partner said she had gotten separated from Bresnick as the pair were leaving their home. His partner was informed by sheriff's officials that Bresnick had been found dead in a burned car, the neighbor said.
Neighbors on Tuesday told the Los Angeles Times that Bresnick was trying to rescue his dogs. His girlfriend was able to flee with her pet before flames overran the property, the Times reported.
"Her house is gone, her boyfriend is gone," Morgan Franklin told the newspaper. "It's crazy."
Sheriff's homicide detectives responded to the home after the body was discovered Saturday.
Asked about the investigation Monday, sheriff's Capt. Roosevelt Johnson said detectives were still working on the case.
"The fire was so hot on the day that they discovered the person that they had to come back hours later to finish up their investigation," Johnson said. "That area is kind of still smoldering."
Dental records were used to identify Bresnick, the Times reported. An autopsy will determine what caused his death.
Since it began Friday afternoon, the Sand Fire had burned 37,473 acres as of Tuesday morning.