This is an archived article and the information in the article may be outdated. Please look at the time stamp on the story to see when it was last updated.
A 28-year-old Los Angeles man with a history of drunken driving was charged Wednesday in connection with an alleged DUI crash that left more than a dozen people injured in Alhambra.
Ismael Soto appeared in Alhambra Superior Court to face four counts related to the Sunday night crash, according to the Los Angeles County District Attorney's Office.
He struck two parked, occupied minivans that in turn careened into seven pedestrians who were looking at holiday lights, authorities said. Four victims were initially in critical condition after the crash.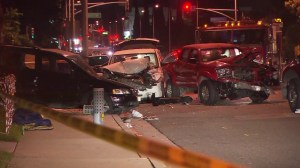 "It was like a war zone," recalled resident David Villalobos, whose holiday lights were on view. "People were lying on the grass. There was one victim trapped under a car."
Police said Monday that 13 people were injured, and 11 of those were hospitalized. On Tuesday, the total number of injured was updated to 15, according to the Pasadena Star-News, which detailed the injuries.
Soto was charged with the following: driving under the influence of alcohol causing injury within 10 years of two other DUI offenses; driving with a .08 percent blood alcohol content causing injury within 10 years; driving when privilege suspended or revoked for DUI conviction; and driving a vehicle not equipped with an ignition interlock device when driving privilege was restricted.
The felony complaint against Soto also alleged he inflicted great bodily injury to more than one victim, drove at an excessive speed, and had a blood-alcohol content in excess of 0.20 percent.
Soto had prior DUI conviction for offenses in August 2012 and February 2013, the complaint states. He did not have a valid driver's license, authorities said.
He was being held at the Twin Towers Correctional Facility in downtown Los Angeles on $130,000 bail, county inmate records indicated.
Prosecutors had planned to ask that Soto's bail be set at $526,200; it was not clear if the amount was adjusted.