This is an archived article and the information in the article may be outdated. Please look at the time stamp on the story to see when it was last updated.
A man armed with a gun on a busy stretch of Ventura Boulevard was shot by police who responded to a report of shots fired in Studio City Friday, and a bomb squad robot was sent in to examine items near the man's body.
Multiple witnesses described the man firing into the air before responding police shot him.
The call came in about 3:20 p.m. for shots fired at Ventura Boulevard and Vantage Avenue, according to Officer Rosario Herrera with the Los Angeles Police Department's Media Relations Section.
A man armed with a handgun was shot by responding police and was down, Capt. Steve Carmona of LAPD's North Hollywood Division told reporters about two hours after the initial call.
Aerial video from Sky5 showed the man's apparently dead body in front of a Union Bank building across a driveway from a Chipotle restaurant.
A bomb squad robot was deployed around 4:25 p.m. and moved toward the body. It shot at and exploded two objects — some kind of metal container and a suitcase that had been next to the man — in the driveway between the bank and the Chipotle, Sky5 video showed.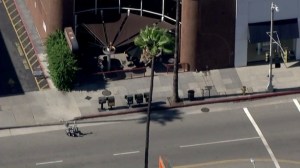 Police were waiting to determine if items that were with the gunman were safe before examining the body, Carmona said. Shortly after he spoke, LAPD Detective Meghan Aguilar told reporters the apparent devices had been "rendered safe."
A handgun was found in the area, she said.
Witness Verta Keshishyan said she and other family members were exiting a store when someone stopped them, saying a man with a gun was nearby. Then they soon saw the man with the gun sitting near a bus stop, Keshishyan said.
"He was just firing into the air while there were children and parents walking around. He was just firing into the air," Keshishyan said. "Police showed up, and they told him to drop his weapon. … He wasn't listening."
After police tried to negotiate with the man for about five minutes, the man "held up his gun and aimed toward the police, and that's when they shot him," Keshishyan said.
Another witness, Wyatt Torosian, said police fired two shots, sending the "bedraggled" man back and killing him in front of the Union Bank building.
"That was it for the man. It was very dramatic," Torosian said.
Torosian, who was inside a nearby Starbucks, said he was told the man had fired into the air.
A third witness described five or six shots being fired by the man.
The armed man hadn't aimed at any other people on the street, Keshishyan said. He had held up some kind of object that appeared to be in a bag toward police and then put it back down, she said.
Carmona said police had not yet determined if the man fired his weapon.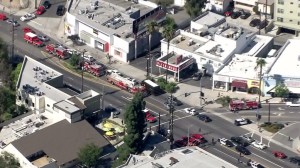 Ventura Boulevard was blocked off, as was Laurel Canyon Boulevard, which was backed up for about 2 miles. Northbound traffic from Laurel Canyon was being forced east on Ventura Boulevard.
Aguilar said she expected the roadways to be shut down for about 10 hours.
Dozens of LAPD and Fire Department vehicles were on scene.
The Fire Department called the incident at 12185 W. Ventura Blvd. a "single-victim shooting with a suspicious package being investigated by LAPD."
One officer who was involved in traffic control for the incident was transported to a hospital for a medical condition, according to LAFD.
KTLA's Nidia Becerra Tijerino contributed to this article.
More Video: