This is an archived article and the information in the article may be outdated. Please look at the time stamp on the story to see when it was last updated.
Authorities say Francisco Yanes Valdivia married a woman to get his green card; problem was, he already had a wife.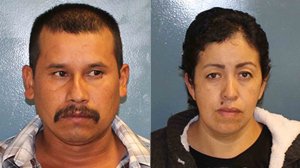 On Tuesday, the Tulare County Sheriff's Office booked Valdivia and his wife, Rosalina Lopez, on suspicion of murder, saying the couple killed Vadivia's other wife, Cecilia Bravo Cabrera.
Cabrera hasn't been seen or heard from for more than six months — not even on her beloved social media feeds — and investigators say they're sure she's dead.
The 30-year-old mother of four was last seen just after midnight on June 9 leaving the Tachi Palace Casino in Lemoore, Calif., in her gray 2013 Chevrolet Malibu. Five hours later, California Highway Patrol officers and firefighters found her car torched in an orchard near the small town of Traver, roughly 17 miles north of Visalia.
Click here to read the full story on LATimes.com.